The Synergy of Humans and Machines in Modern Cybersecurity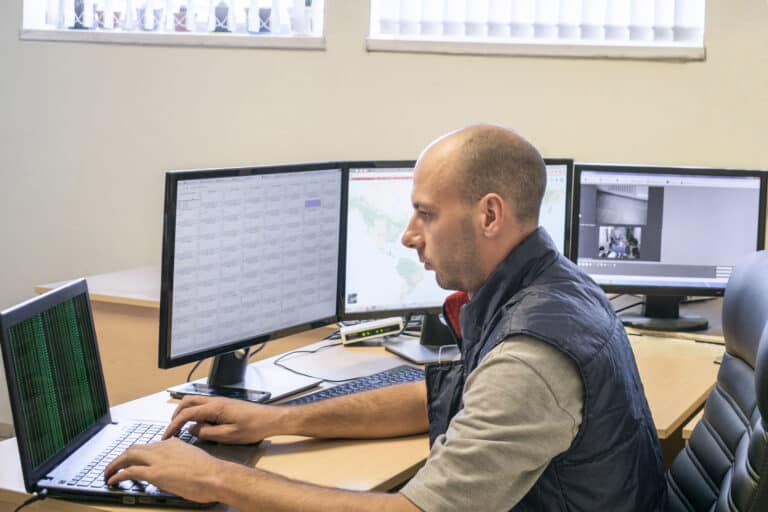 Modern cybersecurity invokes an intricate dance between humans and machines, especially in a rapidly evolving digital landscape. The music that holds this dance together is the Security Operations Center (SOC). 
The SOC team monitors the entire IT infrastructure, including applications and communication, of a business every hour of the day. The team, along with their cybersecurity software tools, detects cyber threats in real time and addresses them. The teamwork between human and machine optimizes the process.
As machines gain more abilities through Artificial Intelligence (AI) and Language Learning Models (LLMs), it's crucial for humans and companies to keep up with these changes. At the forefront of these advancements are those teams who implement cybersecurity with the aid of smart technology to keep information safe.
Machines Scale; Humans Synthesize
One of the fundamental aspects of the human-machine partnership in cybersecurity is the ability of machines to process vast amounts of data at lightning speed. Machines excel at tasks that require sifting through massive datasets, identifying anomalies, and flagging potential threats. This computational prowess is unmatched by human capabilities.
"The need for Cybersecurity in the first place is because of malicious actors trying to get into other people's systems." MAXX Apprentice Sherlene Eke points out.
Sherlene works alongside the SIEM tool, QRadar to protect against cyber threats. Used mainly for Security Logging and Incident Response, QRadar streamlines the generation of identified security threats and triggers alerts from various other security tools. Sherlene responds to alerts and determines next steps with her team when needed.
Cybersecurity software tools are important to protecting information, and at the end of the day, we need humans to maintain and work alongside these tools. Sherlene says it best. "Every software can have glitches and requires constant updates/patching not just to make it secure but also to keep up with new technologies." 
SOC professionals shine in their ability to synthesize information delivered by their cybersecurity software. Through intuition and context, humans discern patterns and recognize the broader implications of the data processed by machines. While machines can identify anomalies, it's often the human who determines whether an anomaly is a legitimate threat or a false positive.
Adaptability in a Changing Landscape & Learning Together
The cybersecurity landscape is in a constant state of flux, with cyber threats advancing at an alarming pace. The solution to staying ahead of cyber threats is through the adaptability of teamwork between humans and machines.
Humans possess the remarkable ability to adapt to new and unforeseen challenges. The capacity for critical thinking and problem-solving allows them to stay ahead of bad actors who are constantly devising new tactics. 
"Many tactics used in malicious messages still slip past the automated systems." Julia Brigden, MAXX Apprentice, shares. She works with Mimecast, an advanced phishing and fraud detection security tool. 
"I think we all want to assume the automated system will prevent problematic messages from getting through, but the fact of the matter is I still have to investigate and remove dozens of malicious emails daily." Julia said.
In the face of ongoing and smarter cyber threats, the dynamic partnership between humans and automation is key to staying resilient and managing cybersecurity.
Embrace the Power of Organization
A great cybersecurity team is not only supported by security software, but they also are made up of individualized teams with specific roles. An organization's cybersecurity team includes an incident response team, global support team, risk team, app security team, and the physical security team. Each team has a role to play in protecting the business. When a business faces a cyber threat, these teams band together to eliminate the threat.
In incidents involving data breaches or cyberattacks, the human element becomes crucial in managing the impact on the company, the workers, and the individuals. People are the ones who work together with their security tools to eliminate the security threat and determine further solutions.
"There will always be a human element," Sherlene shared. "Maybe not fully involved in the day to day but in the background of it."
The Future of Cybersecurity is Human and AI Partnership
It's not a matter of choosing one over the other but rather recognizing the complementary strengths that humans and AI bring to the table.
"The major takeaway is human vigilance is a very important and necessary part of cybersecurity." Julia shared.
In a holistic approach to security, humans and machines work hand in hand. Machines process vast amounts of data and identify potential threats, while humans apply their intuition, adaptability, and emotional intelligence to make informed decisions. This synergy creates a formidable defense against the ever-evolving landscape of cyber threats.
Partner with MAXX Potential on your next project at MAXXpotential.com/contact.