Demystifying Spooky AI Technology Fears
How AI Technology Benefits Employees and Companies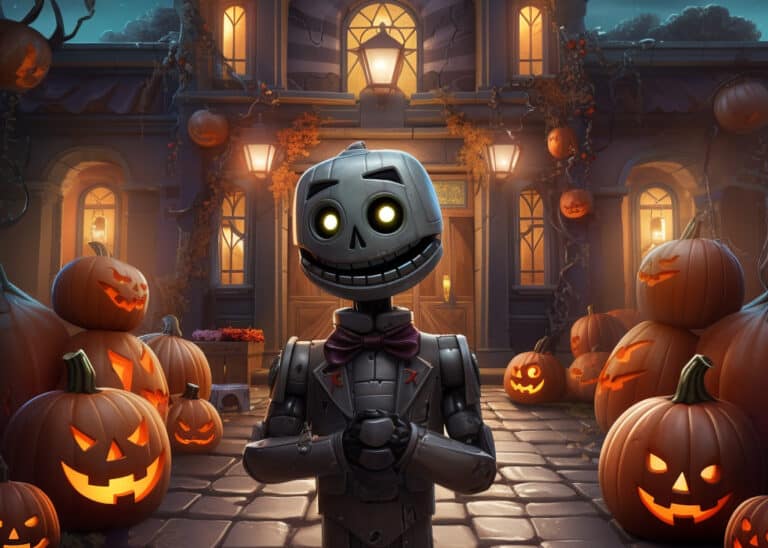 From science fiction to reality, Artificial Intelligence (AI) technology evokes many emotions in humans, whether it is fear or intrigue. AI technology has become a part of our daily lives from the in-home speakers that answer our questions to chatGPT and other LLMs that have revolutionized software's generative capabilities. It's exciting and terrifying.
Tech professionals guess at what these advancements will mean for humans, and some people experience so much fear about what AI could mean for our world. We wanted to talk about some of those spooky AI technology fears and do our best to demystify them.
Body Snatching: AI will replace human jobs
As language learning models, automation, and machine learning advances, it's no surprise that workers fear for their jobs. Common questions circulate: Will machines replace humans? How can I protect my job? What can I do to work with AI now?
Some version of automation has been in use since the 1700s to handle repetitive tasks, and yet, the skill of automation now can be seen as scary. Automation and machines should replace workers who may face dangerous scenarios every day where a machine would be better equipped and safer to handle the work. 
"While I do believe that years later AI will take away some jobs I do believe that it will open many other types of job opportunities that could be more technical or something that we never would have thought of before." Says James Stanley, MAXX Apprentice, in "From Hobby to Innovation: Exploring AI Passion Projects."
The truth is that AI technology is inspiring workers to reimagine job roles.  AI allows humans to focus on higher-level responsibilities that use skills like critical thinking, creativity, and empathy. AI can enable workers to be more productive, take on more fulfilling responsibilities, and create entirely new types of jobs. With thoughtful implementation, AI can be harnessed to create positive economic and workforce impacts.
Poltergeist Prejudice: Perpetuated Bias, Ethical Concerns, and Irresponsibility
AI technology speeds up tasks like sorting through resumes for a job opening or tracking data. With that said, AI systems can inherit and amplify existing societal biases. This raises a number of concerns as more and more organizations turn to AI technologies for the automation capabilities. 
A National Institute of Standards and Technology report shared a study of 189 facial recognition algorithms and how most of them demonstrated bias. The researchers reported that the technology falsely identified Black and Asian faces 10 to 100 times more often than they did white faces. Women were also more often falsely identified.
Governments seek to determine best ways to regulate AI with New York City being the first to pass a law in 2021 with rules enforced this July. Thoughtful design and smart governance frameworks are required to ensure that AI doesn't perpetuate societal problems. Companies and governments deploying AI must audit for biases, ensure transparency, evaluate use cases carefully, and institute human oversight measures.
In a "New Regulatory Approach to Facial Recognition," Jason Schultz, a professor at the New York University School of Law, believes that facial recognition companies must consider new, consent-based approaches to their image gathering as right-of-publicity claims gain momentum. As technology advances so too must the guiding principles and frameworks to protect privacy, avoid bias, and disrupt irresponsibility.
AI Data Voodoo: Protecting User Data While Leveraging AI
Data breaches are scary, and bad actors are discovering new ways to use AI technologies to access user information, such as the AI-controlled botnet data breach with TaskRabbit in 2018 or the more recent and accidental Microsoft AI researchers data leak. Protecting private information alongside the use of AI is important.
Three possible solutions to protecting user data include federated learning, differential privacy, and encrypted data. Federated learning trains AI models with decentralized data stored on user devices while differential privacy anonymizes data by adding controlled noise. End-to-end encryption also helps keep information secure. 
Let's not forget that AI and automation are powerful tools in cybersecurity, and they have demonstrated accelerated data breach identification and containment, saving companies as much as USD 1.8 million in data breach costs according to the Cost of a Data Breach 2023 global survey.
With deliberate effort, companies can find ways to benefit from AI while also earning user trust through robust privacy protections. Establishing oversight groups and following frameworks like the EU's GDPR can guide policies that give users more control over their data. Being transparent, providing opt-out options, and restricting data usage are key principles.
Bewitching: AI Dependence vs. AI Assistance
Artificial Intelligence can be scary because some view it as a complete replacement of humans across the board; however, that skips the fact that humans have a unique ability to make decisions based on data as well as external factors. AI technologies can be a great tool, but they work best with a human manager. The goal of AI should be to augment, not replace, human intelligence.
One article observes that "the fear of AI often boils down to the fear of loss – loss of control, loss of privacy, and loss of human value."
Some solutions for preventing overreliance include having humans remain "in the loop" for consequential decisions rather than fully automating them. Companies and governments deploying AI should also conduct impact assessments to anticipate risks. Additionally, requiring transparency and explanation from AI systems can build understanding and trust in their capabilities.
AI can be viewed as a powerful collaborative tool rather than a decision-making authority. While AI dependence is a valid concern, keeping humans ultimately in control can allow society to reap the benefits of AI assistance without surrendering our agency or discernment. The ideal future combines the strengths of human and artificial intelligence.
The key is shaping policies, education, incentives, and labor models to focus AI on enhancing humans rather than replacing them. With forethought, humans and AI can positively co-evolve. Truth is that AI is not even ready or able to completely replace humans.
Interested in learning about how AI can cut business costs and boost company productivity? Reach out to MAXXpotential.com about your interest in optimizing your back office capabilities.